Swipe to the left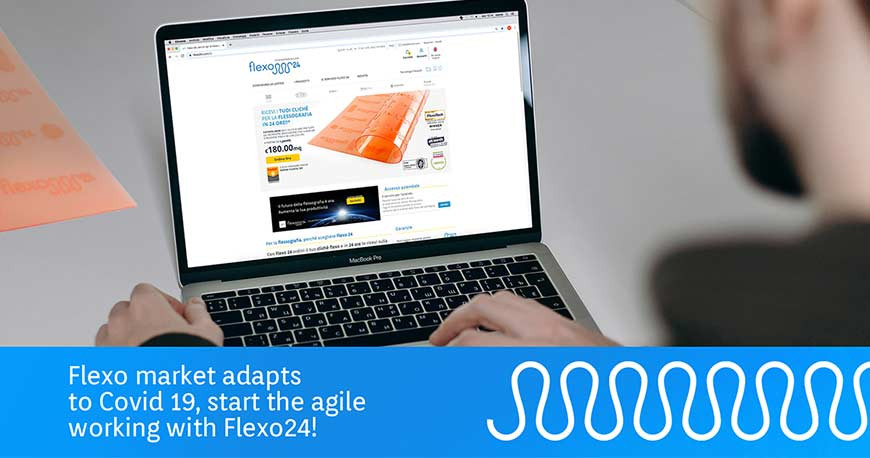 Agile work is a reality for the new market with Flexo 24!
Agile work is a reality for the new market with Flexo 24!
Agile work is strongly requested for today's packaging business, which had to fine-tune to the new pandemic phase. Flexo24 is the ready, online solution to optimize the workflow for printing packaging on different materials.
Flexo24 is born digital in order to make flexo-market professionals' work totally digital – from file check to plate-making, including administration. Many important companies in the field are going on with their searches to offer customers their best product as shown in the last FOOD Mag contest.

HOW COVID CHANGED PACKAGING INDUSTRY.

Economic system is adapting to a new business phase forced by Covid, a phase called "new normal". The same is happening for the whole packaging industry, which is adapting to an extremely unstable situation – but still very intense for consumption of commodities and their packagings.i.
During the Covid period the lack of raw material for packaging contributed to the use of traditional materials. Moreover, the deferral of orders together with the practice of social distancing boosted companies' need for activating digital, automatic processes for both working and supplying – agile work indeed.
"NEW NORMAL" PHASE: DATA AND ANALYSIS.
DS Smith, a packaging multinational corporation, conducted a survey which shows that 65% of their clients bought online more than usual – almost 2 million people during the first months in 2020, according to the evaluation from NetComm, the European and Italian group for online commerce.

PRO TIP
From the 700 thousand people who usually join online commerce during the first 4 months of the year, in 2020 1,3 million client added up to the usual amount. This process of digitalization, due to lockdown, increased the total of users up to 2 million. (Data from NetComm)
"Online transactions shown a significant boom which almost lead to a stop of traditional sales", declared Ted Doheny, CEO of Sealed Air, during an interview released to an important specialized magazine.
Packaging tendencies to monitor are:
packaging of ready-to-eat meals, food and take-away packaging;
beauty and hygiene products,
clothing and consumer electronics
and more broadly:
packaging adaptable to different usages
use of raw materials easy to source and more sustainable
LET'S FIND OUT SOME SMART SOLUTIONS FLEXO24 OFFERS TO THE NEW FLEXO MARKET.

Ready solutions included in Flexo24 services, allowing agile work now!!
Business reinvented itself and is now ready for companies which wants to employ digital tools such as Flexo24. We are now in the "new normal" phase and goods' consumption is adapting to it – but also goods' production must react properly, so here are the digital solutions by Flexo24:
PDF file check and certified quality.
Production using the best materials available in the market, Kodak Flexcel NX and additional supplies, print tests, all you need for flexo printing.
Express delivery by DHL or by your courier account.
Smart administration, all the available payment methods and invoices instantly available on your account.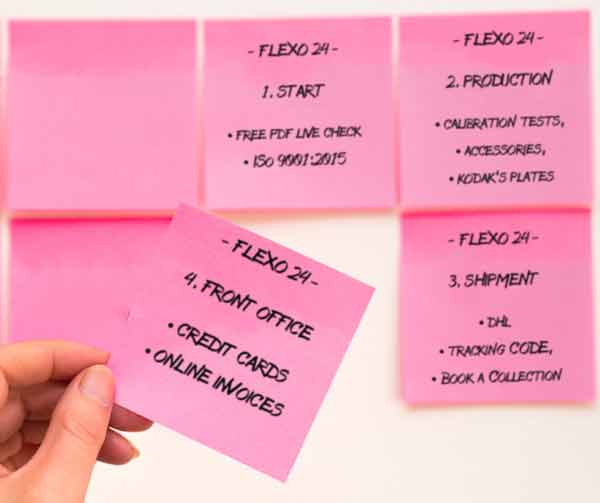 1. PDF file check and certified quality.

Flexo 24 is the online service available 24/7. A ISO 9001:2015 quality certification for the business processes was recently obtained. Flexo 24's professional service is always available through the live chat in office hours.
And more:

you can access our service from any device, thanks to a multi-device control.
The software for the PDF analysis makes a real time screening of more than 25 PDF features and generates an immediate quote.
Once the PDF file is analyzed you will receive an e-mail that the file is uploaded and ready for processing.
Receive INSTANTLY € 20.00 coupon on your first order above € 199.00!

2. Production using the best materials available in the market, Kodak and additional supplies.

Flexo 24's production process is backed by Nu-Maber Srl, the founding company with over 40 years of flexographic technology experience. The best materials in the market are available for the professionals of the flexo field. You can order the Kodak NX digital flexo plates, and also the following additional flexo supplies:
the plate ordered online, among the leading supplies in the market, can be selected according to the printing substrate through the configurator.
Calibration test to get the exact DGC, dot gain compensation value for your printing system.
Kodak NX calibration test for the 6+1 patterns for each printing system.
PDF file check, including an extra service that offers the PDF creation.
Digital loupe, a pocket 30x optical zoom digital magnifying lens.
Plotter Colour print, high quality plotter print of the composite file.
3. Express delivery by DHL Express.

Once the order is complete, you will get an express delivery.
In these times of epidemic shipping of goods proved an essential service and DHL Express turned out to be a professional partner in facing the emergency. DHL Express also offers:
tracking code. Your shipment will be traceable immediately after your order's confirmation.
Hold for pick-up. Collect your package from the destination hub.
Flexo 24 also offers the solution ON SITE COLLECTION using the customer's courier account. Writing "NOSHIPPING" in the COUPON fields on the CART page.

PRO TIP
Before finalizing your order, complete the order NOTE and write: "Onsite collection by (name of your courier and your client code)". Fundamental to have your courier delivered to Flexo 24.
4. Administration, all the suitable payment methods, and invoices.
Administration gets smart! You can take advantage of Flexo 24's services using all the payment methods available from the Stripe platform. Invoices are also available from your board when you log into your account.
We are using the Stripe payment platform because it accepts all credit cards and more other Regional's payment methods.
Many functions are available from your profile board; such as:

update order status,
quick order button
and you're invoices from the area "My orders"
Flexo 24 is born digital to allow the professionals in the packaging market to manage actively the pre-press flexo workflow, it's a necessity in today's increasingly digital market.
Order now your flexo plate.
Share the article