Swipe to the left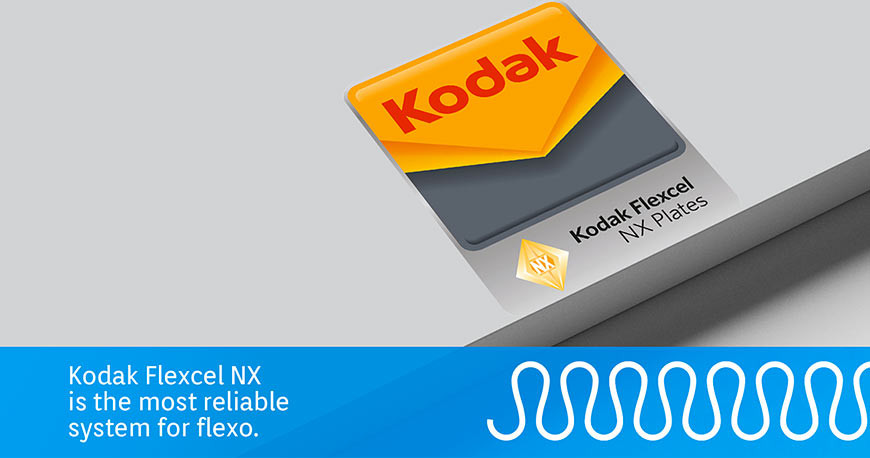 Kodak flexo plates: more than 6 reasons to choose them.
Kodak flexo plates: more than 6 reasons to choose them.
Kodak flexo plates take your flexo printing to an advanced level.
Kodak flexo plates are the result of the processed Kodak Flexcel NX through:
the laser Squarespot exposure technology integrated in the CTP Kodak system. This ensures great consistency in printing because it reduces the variables related to chemical products,
the Flexcel NX photopolymer plate, especially designed for this system and available in thickness 1,14 mm,
the Thermal Image Layer that prevents oxygen to be in contact with the plate during exposure and avoids the oxidation typical of the other ablation systems. It ensures a higher consistency with the digitalTiff 1 bit (LEN) file generated from the PDF uploaded in Flexo 24 and guarantees perfect copies of each plate,
use of automatic lamination with the Flexcel NX wide 5080 Laminator.
Kodak, the most reliable system for flexo.
How can you get the most visible improvement on printing?
The print quality improvement is most visible in the reproduction of images:
smooth transitions (shifting from one colour to another),
wider tonal range,
improved colour contrast.
This is why Kodak Flexcel NX is considered the most reliable solution in the flexo printing market, because you can engrave plates with flat top dots below 1% with an improved optical density and print quality.

Buy now KODAK Flexcel NX readymade plates.




Standard or Advanced from 1 to 5: 6 options of different patterns!
With the Digicap Nx algorithm it is possible to achieve optimal ink transfer and ink coverage thanks to the surface of the flexo plate, which is characterised by microcells of 5x10 microns and a very high pattern density.
There are many specific solutions with different densities in the micro-pattern (texturisation of the plate) suitable for each of the various applications in flexo printing.
Anilox roller:

DigiCap NX Pattern

Anilox Volume
Standard
• 2.0 – 2.2 bcm
• 3.1 – 3.4 cm3/m2
Advanced01 (Adv 01) / Advanced02 (Adv 02)
• 2.0 – 2.5 bcm
• 3.1 – 3.9 cm3/m2
Use recommendations for the White Ink.




Pattern selection for solvent-based white ink to print on film.

Anilox Volume
Pattern DigiCap NX raccomandato

Below 7.0 bcm (10.8 cm3/m2)

• Advanced03 (Adv 03)
7.0 – 9.0 bcm (10.8 – 13.9 cm3/m2)
• Advanced04 (Adv 04)
Above 9.0 bcm (13.9 cm3/m2)
• Advanced05 (Adv 05)
Use recommendations for UV and water-based inks are now being developed.

PRO TIP
In addition to the Standard pattern, 5 more patterns defined as "Advanced" are available.
These can be divided in 2 groups.

1) Standard, Adv01 and Adv02: suitable mostly for a high screen count anilox with a volume below 4 bcm (6,2 cm3/m2). These are usually employed for CMYK, screened colours and full tones.

2) Adv03, Adv04 and Adv05: these work better with a low screen count anilox and volumes above 4 bcm with a high ink transfer. These patterns are usually employed for non-screened Pantone colours or for the white ink. Suitable for full tone ink.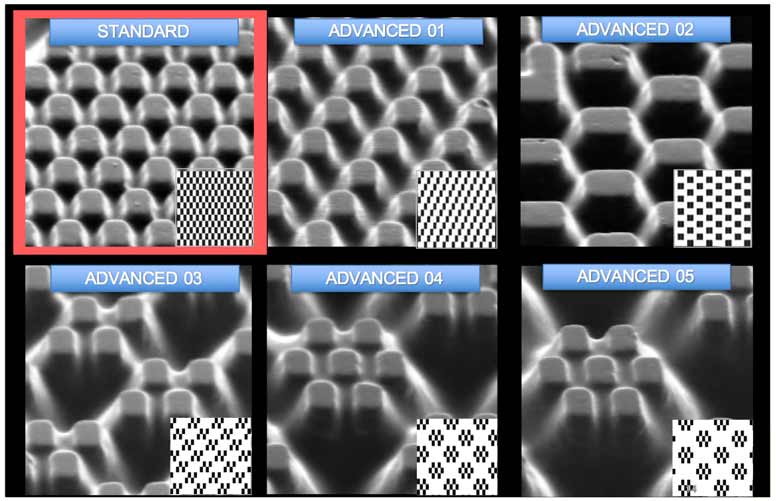 The image represents the 6 patterns that can be selected with the Kodak Flexcel NX technology. In each frame: magnified surface. Bottom right: screen pattern seen from above.
How to select the right pattern for your printing machine?
A printing test of all the patterns showed above can help you choose the pattern that matches your flexo system. You can decide which pattern suits your system best according to:
inks,
anilox,
tape,
printing substrate.
Buy your calibration test for the Kodak patterns, print and then check which pattern has the higher ink density by using a densitometer (tool to measure the quantity of colour spread on the substrate).
Decide which is the best result as to ink coverage and cleanness (uniform screen).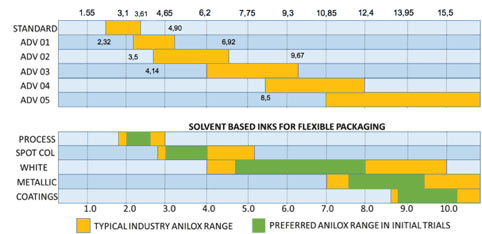 By signing up to flexo 24's newsletter you will only receive helpful information and an immediate €20,00 discount for your first order above € 199,00! Sign Up:

Share the article