Swipe to the left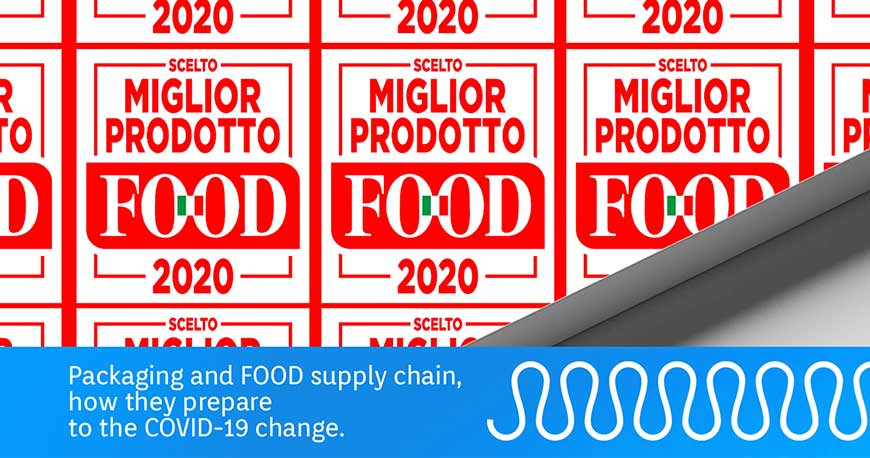 After COVID-19 food&beverage evolves: FOOD Match wins
After COVID-19 the food&beverage industry evolves: here are the winners of FOOD Match!
After COVID-19 many enterprises have been carrying on with their business. Also the prestigious Food Match award of the FOOD magazine directed by Maria Cristina Alfieri for the best products from the food&beverage chain was held.
After COVID-19 recovery is slow but the food industry chain is already anticipating the needs of the new consumer, the "new normal". As we already pointed out in our article about the sustainable packaging consumers today are more conscious and attentive to their purchase.

"… consumers evolved; they are more conscious and wish to create a connection with the producer for healthy, safe, traceable and sustainable products. The products that were awarded with the "Best Food Product 2020" this year are the living proof that food&beverage companies can listen to the consumer's voice and offer products that can meet the customer's needs"
(Maria Cristina Alfieri, director of FOOD).
Consumers have a great responsibility to packaging. Here are the winners of the award "Best Food Product" 2020 edition.
The competition was joined by 160 products from 101 companies and were classified into 14 categories, plus 4 special classes. After a selection, the first 5 brands for each category were analysed through a direct survey among consumers.
---
"Belle Buone Fette Spesse" - Galbusera Spa.

This product aims to combine the features that the final consumer looks for:
flavour of blackcurrant, figs and hazelnuts,
benefit of seeds.
The packaging enhances the ideal time for usage of the product evoking old times through the image of traditional patterns on the background.
---
"Yoga, il Centrifugato" - Conserve Italia Sca.

The non-alcoholic drink without added sugar from fruit, vegetable and turmeric is the new product from Yoga, a brand that is always careful with the nutritional values offered to consumers. This product meets the need of some healthy features like:
natural ingredients,
quality, showing the percentage of each ingredient,
everything is enhanced by the clear glass bottle showing the product.
Receive now a €20,00 coupon on your first order above €199,00!

---
"Gran Tenerone sliced Prosciutto Cotto" - Grandi Salumifici Italiani Spa.

GRAN TENERONE Casa Modena stands out for its unique taste and because it melts in your mouth. The transparent tray shows the product and adds a sustainability value as it is made of recyclable paper.
---
"Cantabrian Sea anchovy fresh fillets" - Rizzoli Emanuelli Spa.

The Cantabrian Sea fresh anchovies are fished in northern Spain where the deep and cold water rich in oxygen and plankton makes the fish flesh tender and tasty. Thanks to their low saline content, the fresh anchovies from Rizzoli are especially for connoisseurs. The packaging is entirely transparent to boost the features of the product.
---
"Pan di Stelle cream" - Barilla G. & R. Fratelli Spa.

When the sweet cocoa cream meets with hazelnuts and crumbles from the Pan di Stelle cookies. This cream made the undisputed position of its fierce competitor Nutella falter among the shelves of supermarkets.
---
"Yogurt Yomo Bistrato" - Granarolo Spa.

Yomo Bistrato is the new yogurt-based sorbet served in an elegant glass 150g pot. It is available in three tasty flavours:
citrus with marmalade and orange peel;
blackcurrant with strawberry chunks;
coffee and chocolate with cocoa seed crumbles.
The consumer's awareness of such refined taste is possible through glass only. The graphic design of this layout the division between the yogurt and the flavors was selected as an element to enhance.
PRO TIP
The award "Best Food Product 2020" was established by the FOOD magazine, edited by the Gruppo Food, an Italian editor publishing in various fields: from B2B, publishing, marketing & promotion. All these are an integrated service for the food industry. FOOD has been a reference magazine for the food&beverage field for more than 25 years. The award's last edition was held as an online event due to the COVID-19 restrictions.
---
"Pistachio-flavour Tartufo di Pizzo" - Calippo Gelateria Srl.

A white chocolate and pistachio ice cream prepared with Italian fresh milk and pistachios without preservatives and colorants hides the intense taste of a pistachio melting heart. All the features are enhanced by the packaging layout.
---
"Pizza Line Organic Flour" - Molino Vigevano 1936 Srl.

Crusty Pizza unrefined flour is made with organic soft wheat. It is really easy to use and it's the best option for preparing pizza. Its packaging conveys and present the perfect usage.
---
"Farchioni's Family Collection" - Farchioni olii Spa.

From classic olive oils Farchioni and Casolare, to D.O.P. products and through organic and seasoned olive oils, Farchioni's long experience creates an high-quality range of products for all tastes. This careful research is fully represented by the new labels design.
---
"Dimmidisì fresh soup Gusto d'Oriente" - La Linea Verde Soc.Agricola Spa.

The brand-new and original selection Gusto d'Oriente is conceived for consumers who want to be citizen of the world, who think beyond borders and those who are open to new food experiences.
---
"Le Stagioni d'Italia Senatore Cappelli Pasta" - B.F. Agro-Industriale Spa.

This pasta uses Senatore Cappelli durum wheat, which is an ancient wheat-quality of Italian tradition. Its packaging is outlined to convey those values which consumers look for:
respect for traditional process,
highly-digestible products.
---
"Mamma Emma potato gnocchi" - Master Srl.

Mamma Emma's artisanal potato gnocchi still preserve the unique softness of homemade gnocchi. They can enhance every taste and recipe as they are made of:
steamed jacked potatoes,
soft wheat flour type "0",
eggs and salt.
The packaging conveys authenticity and respect of tradition through a careful choice of colours and a paper with a rough texture.
---
"I Gialli di Agromonte" - Rosso Ciliegino Soc.Agricola Srl.

This tomato sauce is made of one of the sweetest type of yellow cherry tomatoes and gives a touch of class to all recipes – also the easy and fast ones. Yellow cherry tomatoes are naturally grown in greenhouses, picked up manually and then processed with traditional processes, which enhance authenticity and simplicity. Packaging design is conceived to enhance the product and its colour through the glass.
---
"Parmesan Plumcake" - Parmareggio Spa.

The union of Parmareggio's expertise and the experience of MD. Giorgio Donegani, Food Science and Human Nutrition specialist, started the project "L'ABC della merenda", a range of healthy snacks. The packaging becomes informative because it has to conveys information about healthy food. A handy packaging for a healthy, tasty and nearby snack.
---
"Bonomelli Infusi Speziali" - Bonomelli Srl.

A special spice blend inspired to Africa and its fragrances. The taste of rooibos blends with vanilla's natural sweetness, to charm the consumer with this delicious amber herbal tea. The packaging remarks and conveys these features.
---
"Le Naturelle Deluxe" - Eurovo Srl.

Eurovo presents a new product – a special line of natural-coloured eggs. The packaging is clearly intended to encrease and highlits the originality of this product. Four different chicken breeds for four different egg-types:
Gold, for a snow-white egg
Blue, for eggs of a soft green and blue;
Red, for pink eggs;
Dark, for eggs with a chocolate-looking eggshell.
---
"La Montanara Oro Butter" with compostable packaging - Dalla Torre Dorotea Srl.

Centrifuged butter from fresh milk and cream – soft and fragrant, for all uses. Wrapped up with its package, 100% eco-friendly as it is totally compostable. A perfect model for sustainable packaging, a topic we discussed in this article: Sustaibile Packaging: reality for all companies!
---
"Loriana Piadina Legumi" - Deco Industrie Scpa.

Loriana Piadina Legumi is the latest product presented by Deco Industrie: an exclusive recipe with tasty benefits. As savoury as a traditional piadina, but lighter, softer and more fragrant.
Share the article