Swipe to the left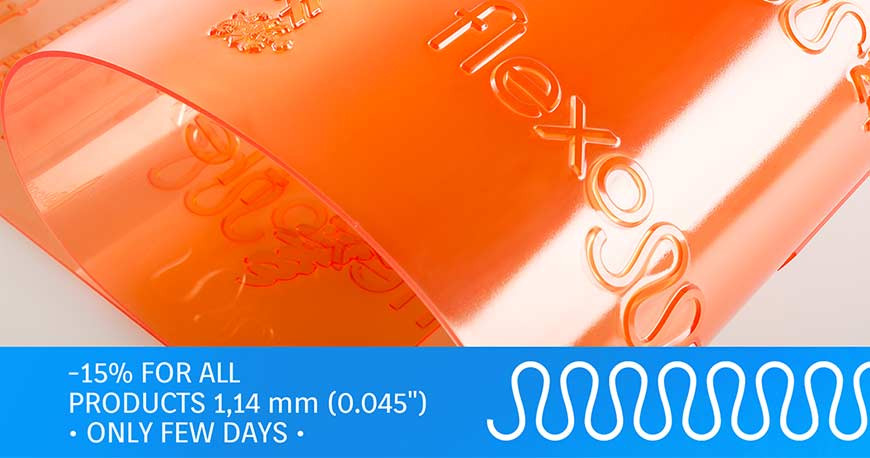 Plates online made from your PDF = Flexo 24! Today -15%
Plates online made from your PDF = Flexo 24! -15%(*).
Plates online for Food packaging agency, or multiple-substrate printers, or even professionals in the field of packaging can provide their customers with a full service because Flexo 24 offers a complete, real-time process for the production of printing plates.
Plates online made from the designing of the packages and wrapping are a result of processes carried out by a wide range of professionals.
Flexo 24 makes the engraving of digital flexo plate easier through:

Flexo 24's service offers a unique opportunity.
Today Flexo 24 is even more convenient: you can order all 1,14 mm (0.045") thickness products with an immediate 15% discount on your scontrino. The offer is valid for a limited period.
PRO TIP
Create your profile and order your 1,14 mm (0.045") thickness plates, the discount will be immediately applied. If you already have a profile but you never placed an order, this is your chance!
What about the discount?
Simple, you will find it automatically:
NO DISCOUNT CODE to receive
THE DISCOUNT WILL BE APPLIED AUTOMATICALLY and you will see its value immediately.
Enter your login details and access the new workflow now: high technology flexo printing with Flexo 24. Order now your 1,14 mm (0.045") thickness products available for paper and paperboard, plastic film and aluminum, coated and adhesive paper to get your 15% discount:

4000 dpi,
2540 dpi,
Kodak Flexcel NX.
Add the product to your cart, you will see the applied discount above the total amount of the order before purchasing.

PRO TIP
(*) This offer cannot be combined with other valid offers. The offer is valid from Monday, 13th September on all orders received until 5.00 pm on Friday, 15th October 2021. Different discount codes (for example the subscription to our newsletter) cannot be applied on the same order. The other discount codes can be applied on additional orders, even placed on the same day.
Flexo 24 is a B2B service ready for your company of the packagin field.
On our online platform you will find the next generation technology for the Food packaging field to achieve consistent and guaranteed results:
Free upload notice.
Copy of your invoice in your profile.
DHL tracking included.
Option for "onsite collection" using your courier's account.
Experts always available online.
Share the article